Chicago Chapter 2014 Annual Meeting
CSfN 2014 Annual Meeting Summary
The Society for Neuroscience Chicago Chapter's (CSfN) 2014 Annual Meeting was held on Friday, April 4, 2014, at Northwestern Memorial Hospital.
This year's annual meeting was a success because CSfN met its overall goals for the year:
Increase meeting attendance by diversifying our scientific format.
Strengthen focus on trainee involvement and research participation at all career levels.
Institute mentoring and career developmental opportunities for trainees.
Expand brain awareness support for undergraduate activities in the Chicago area.
Strongly support K-12 neuroscience education and outreach in the Chicago area.
Maintain an effective web presence that serves as a hub for neuroscience advocacy and information dissemination.
Maintain and further bolster CSfN's solid financial condition.
Moreover, the 2014 annual meeting was a huge success due to our record-breaking 450 attendees! Even more importantly, the meeting stood out for the quality of speakers and its career development and mentoring focus of its younger trainee members. We are thankful to the 63 institutions that participated in this year's annual meeting (click HERE for full list).
Before the start of the meeting, the Keynote Lecturer (Susan Lindquist, Ph.D.) and Presidential Symposium speaker (Harry Orr, Ph.D.) convened a Mentoring Panel, where undergraduate and graduate students, postdocs, and young neuroscientists obtained useful advice about careers in science.
The meeting officially kicked off with a special address from U.S. Senator Dick Durbin (IL), who is a staunch supporter of scientific research. Research funds for Neuroscience are obtained from the National Institutes of Health (NIH), and Senator Durbin introduced a bill, the American Cures Act, this year in the Senate to increase NIH funding every year at a rate of inflation plus 5 percent. Senator Durbin's remarks offered a hopeful and optimistic future for U.S. research in preserving the U.S.'s leadership in scientific innovation and discovery.
With the tone of the meeting set, the Presidential Symposium and Keynote Lecture followed. These neuroscientific presentations of innovative research by "the rock stars of neuroscience," as stated by Shubhik DebBurman, Ph.D., the President of CSfN, in his introductory remarks, focused on neurodegenerative diseases.
To begin the Presidential Symposium, Donald Cleveland, Ph.D., of University of California, San Diego, spoke about advancements in molecular genetics and cell biology knowledge of motor neuron disease. Carla Shatz, Ph.D., of Stanford University, then presented her work on development neurobiology and how understanding the way the brain develops can lead to a better understanding of Alzheimer's disease, a neurodegenerative disease in adults. To finish the Symposium, Harry Orr, Ph.D., of University of Minnesota, presented his work on the molecular genetics of mammalian development and neurodegenerative diseases and therapies that could arise from studying basic science of spinocerebellar ataxia.
To bring it all together, the 2009 National Medal of Science winner, Susan Lindquist, Ph.D., of the Whitehead Institute at M.I.T., presented an astounding Keynote Lecture of using yeast cells to discover mechanisms of and treatment for neurodegenerative diseases, such as Parkinson's and Alzheimer's. Dr. Lindquist is a world-renown molecular biologist, with many top tier publications. She is a member of the American Academy of Arts and Sciences, the National Academy of Sciences, and the Institute of Medicine. Her credentials confirm her expertise in neuroscience. Dr. Lindquist's talk underscored the importance of basic biomedical science to develop innovative therapies for the treatment of human diseases.
During lunch, Diversity in Careers: Themed Lunch Tables, a new event at CSfN annual meeting, was held. This event had neuroscientists in non-academic careers, such as careers in teaching, corporate, government/non-profit, and administration/law, advising other neuroscientists in career options outside of the "ivory tower." Participants included undergraduate and graduate students, postdocs, and young investigators that were interested in unique career options available to neuroscientists.
In addition, Chicagoland and Midwest neuroscientists had the opportunity to showcase their research. This event is extremely popular, and leads to constructive scientific dialogue while fostering local collaborations. Some of the abstract presentations involved undergraduate and graduate students, and postdocs participating in poster competitions. In these competitions, judges anonymously judged the competitors on their scienctific knowledge and presentation skills pertaining to the competitors' posters. A list of the winners can be found HERE.
For the second year in a row, CSfN invited sixteen Chicago Public School (CPS) science teachers to the annual meeting, by partnering with Northwestern University Brain Awareness organization (NUBAO) to conduct a Brain Awareness Teachers Workshop. The purpose of the Brain Awareness Teachers Workshop was to expose CPS teachers to a variety of easily-implementable, engaging, yet didactic, hands-on neuroscience activities that the teachers themselves could bring into their own classrooms to educate students about the brain. The workshop aimed to increase the participants' background knowledge regarding the brain, demonstrated and trained participants on how to implement neuroscience activities, provided access to supplies and teaching resources, and instilled confidence in bringing neuroscience into the classroom in a fun and engaging manner. All Teachers attended the Keynote Lecture, participated in a Lunch-&-Learn session with Lise Eliot, Ph.D., of Rosalind Franklin University, who led a discussion on whether cognitive differences exist between the ways boys and girls learn, followed by specific brain-based pedagogical teaching sessions for the rest of the afternoon.
After lunch, a Plenary Afternoon Symposium entitled, "Hot Topics in Neuroscience (Neural Circuits)," was held. CSfN revamped the afternoon scientific session format. Instead of the traditional two concurrent mini-symposia held in previous years, CSfN switched to one major afternoon plenary symposium that would focus on Chicago's best neuroscience research based on a single theme. Instead of faculty councilors leading the selection of themes and speakers, CSfN provided that charge to CSfN graduate student and postdoctoral members (a sub-committee was formed represented by those who won the poster competitions the previous year). The afternoon symposium features five of Chicago's best neuroscientists on the theme: Neural Circuits. The revamped Plenary Afternoon Symposium was a great success and it allowed local neuroscientists to present their work to the vibrant Chicagoland neuroscience community.
The scientific portion of the CSfN annual meeting ended with presentations from future neuroscientists in the Graduate Student Symposium, which featured short talks by six students, once each from the six main medical schools and academic partners of CSfN (University of Chicago, Northwestern University, University of Illinois at Chicago, Loyola University Chicago, Rush University, and Rosalind Franklin University). This is one of CSfN's oldest events and is highly competitive. A list of winners can be found HERE. All graduate symposium participants met with the Keynote Lecturer Dr. Lindquist for a special lunch.
The 2014 Chicago Brain Bee was held on January 24 at the University of Illinois at Chicago and it is a competition that tests knowledge in neuroscience including such topics as intelligence, memory, emotion, stress, aging, sleep, and neurological diseases of high school students. CSfN members attended the Brain Bee, and CSfN provided financially support for the travel of the 2014 Chicago Brain Bee winner (Rajath Salegame, Waubonsie Valley High School) for the 2014 USA National Brain Bee Championship held in Washington D.C. (March 14, 2014). Rajath went on the place 4th at the national level. CSfN invited the three (two attended) 2014 Chicago Brain Bee prize winners to attend CSfN's 2014 annual meeting by paying their registration, and CSfN recognized the three students formally at our business meeting. A list of winners can be found HERE.
Together, the four competitions allowed students/postdocs to learn to present scientific data, receive scientific input, and network with peers and senior scientists to help in their professional development. We have nominated the winners of the Graduate Student Symposium and the Postdoctoral Competition for the Society for Neuroscience's annual meeting chapter travel awards for those categories.
Congratulations to the winners of all four CSfN competitions and the 2014 Chicago Brain Bee. The complete list of all winners can be found HERE.
The annual meeting concluded with a business meeting and "EtOH Receptor Binding Study" Social. In the business meeting, the new CSfN Executive Committee (click here for a list of the new committee members) and poster/symposium winners were announced. During the Social, local neuroscientists had an opportunity to unwind and socialize (not everything has to be about neuroscience!).
The 2013-2014 CSfN Executive Committee put a great deal of hard work to make this one the most successful meetings in CSfN history, and we hope that the local neuroscientists had a great experience. However, this hard work would have been for naught if not for the fervent support from our corporate and academic sponsors. The CSfN Executive Committee sincerely thanks our sponsors for their continued support.
See you next year at the CSfN's 2015 Annual Meeting!
Shubhik DebBurman, Ph.D.
CSfN President
Lake Forest College
Michael Calik, Ph.D.
CSfN Website Administrator
University of Illinois at Chicago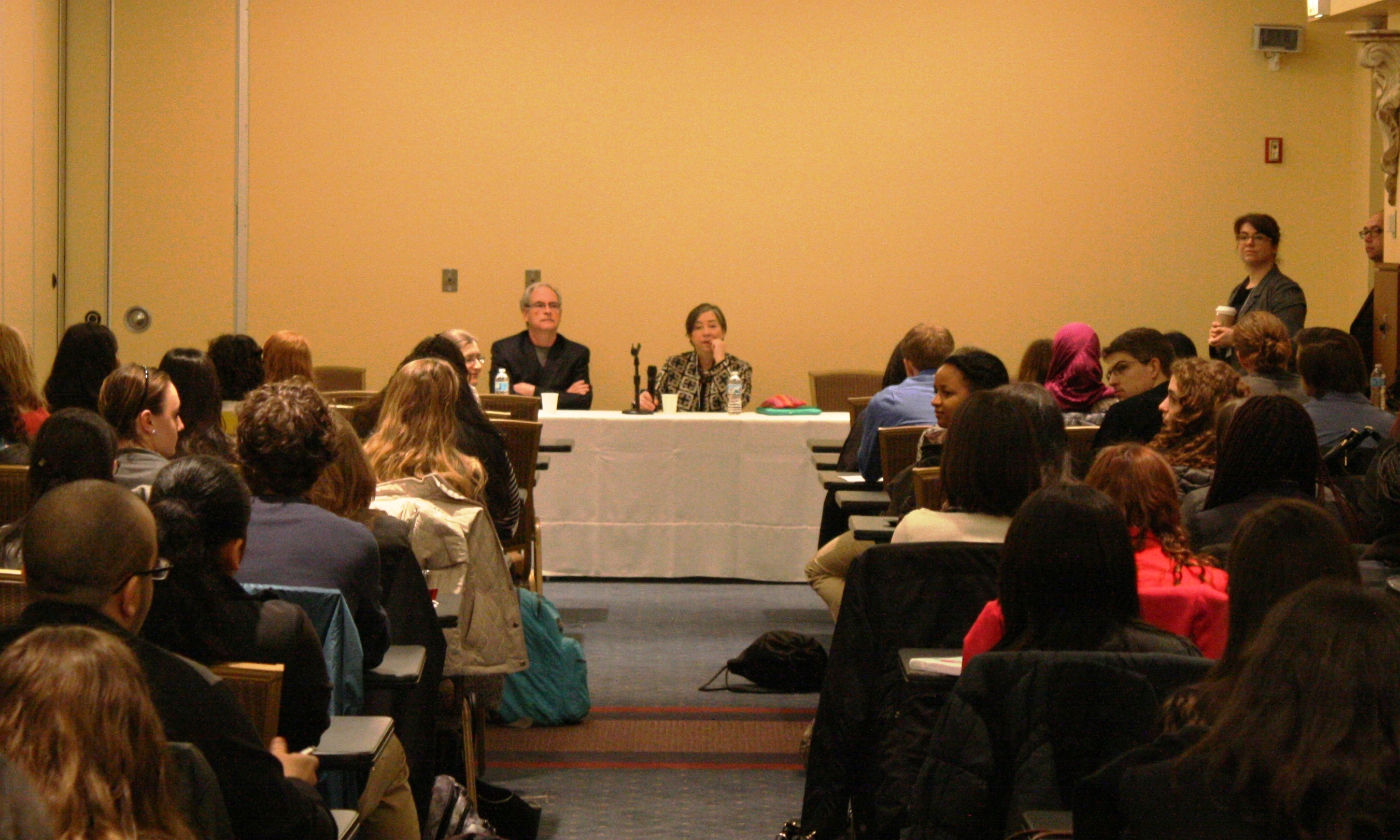 Mentoring Panel: Dr. Lindquest (right) and Dr. Orr (left).

U.S. Senator Dick Durbin (IL) opening CSfN's 2014 Annual Meeting with remarks about increasing scientific research funds (left), and chatting with Drs. Shatz and Cleveland (right).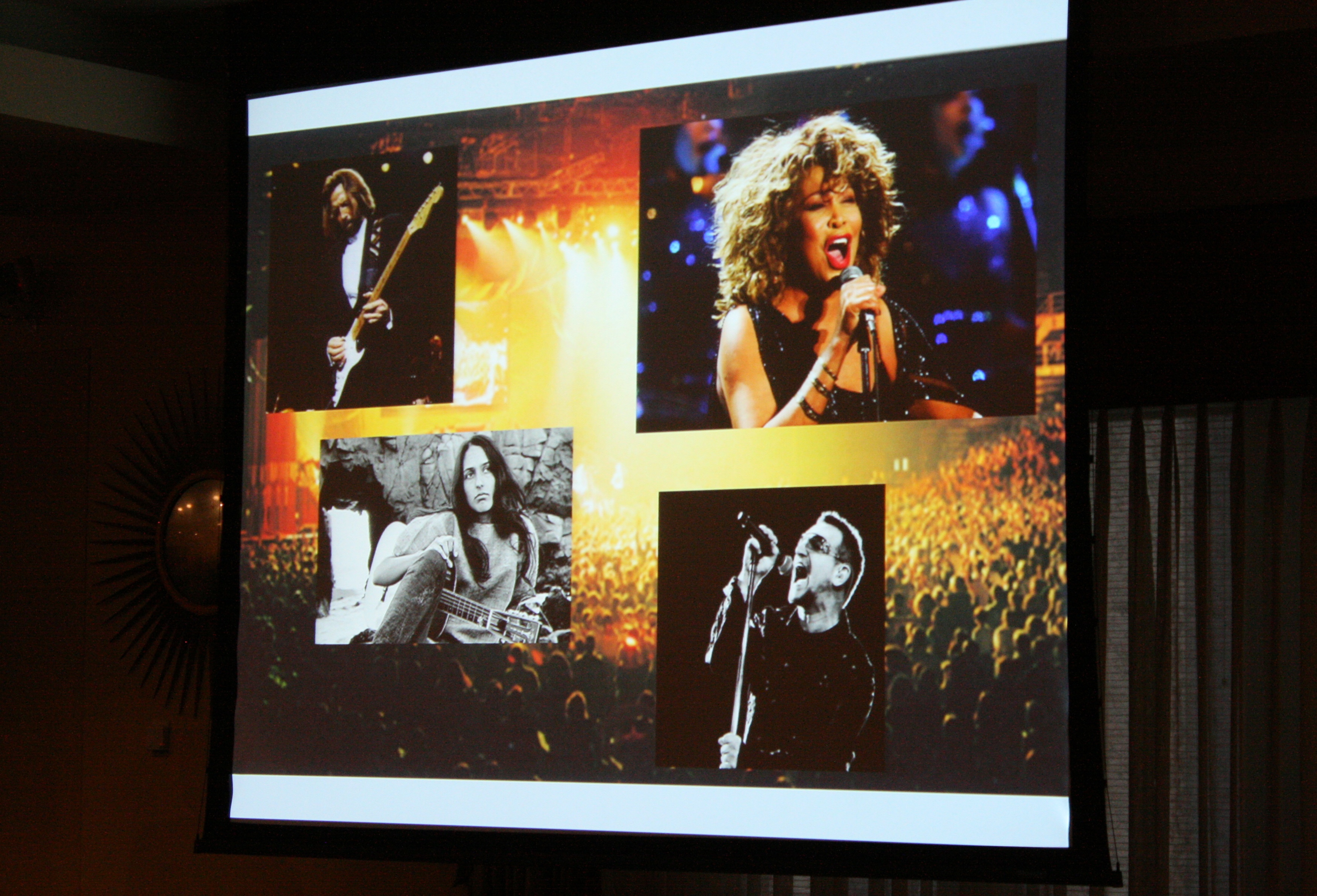 CSfN President, Dr. DebBurman, referring to the Keynote Lecture and Presidential Symposium speakers as, "the rockstars of neuroscience," in his intoductory remarks.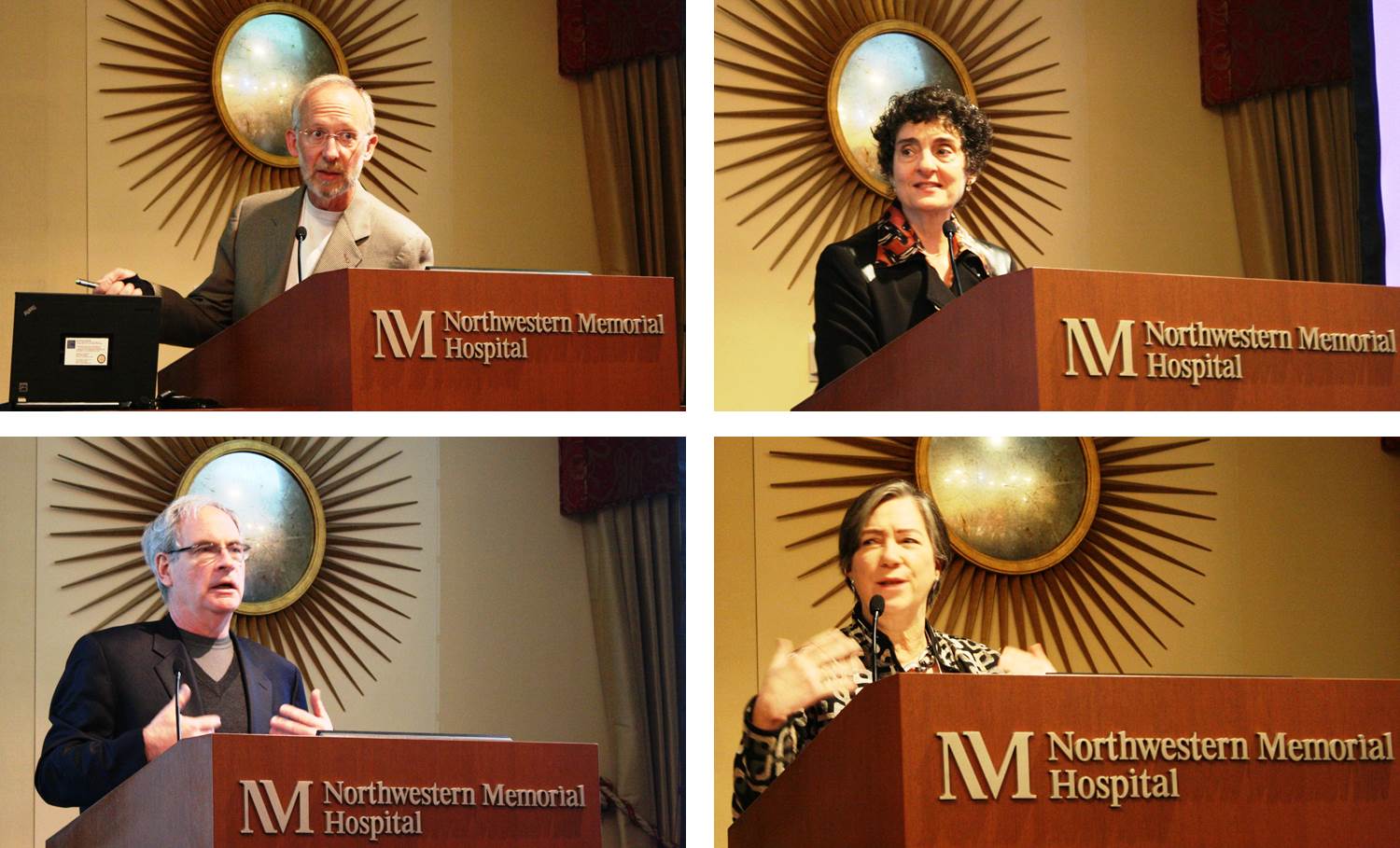 The "rockstars of neuroscience." Presidential Symposium speakers: Dr. Cleveland (top left), Dr. Shatz (top right), and Dr. Orr (bottom left). Keynote Lecture speaker: Dr. Lindquist (bottom right).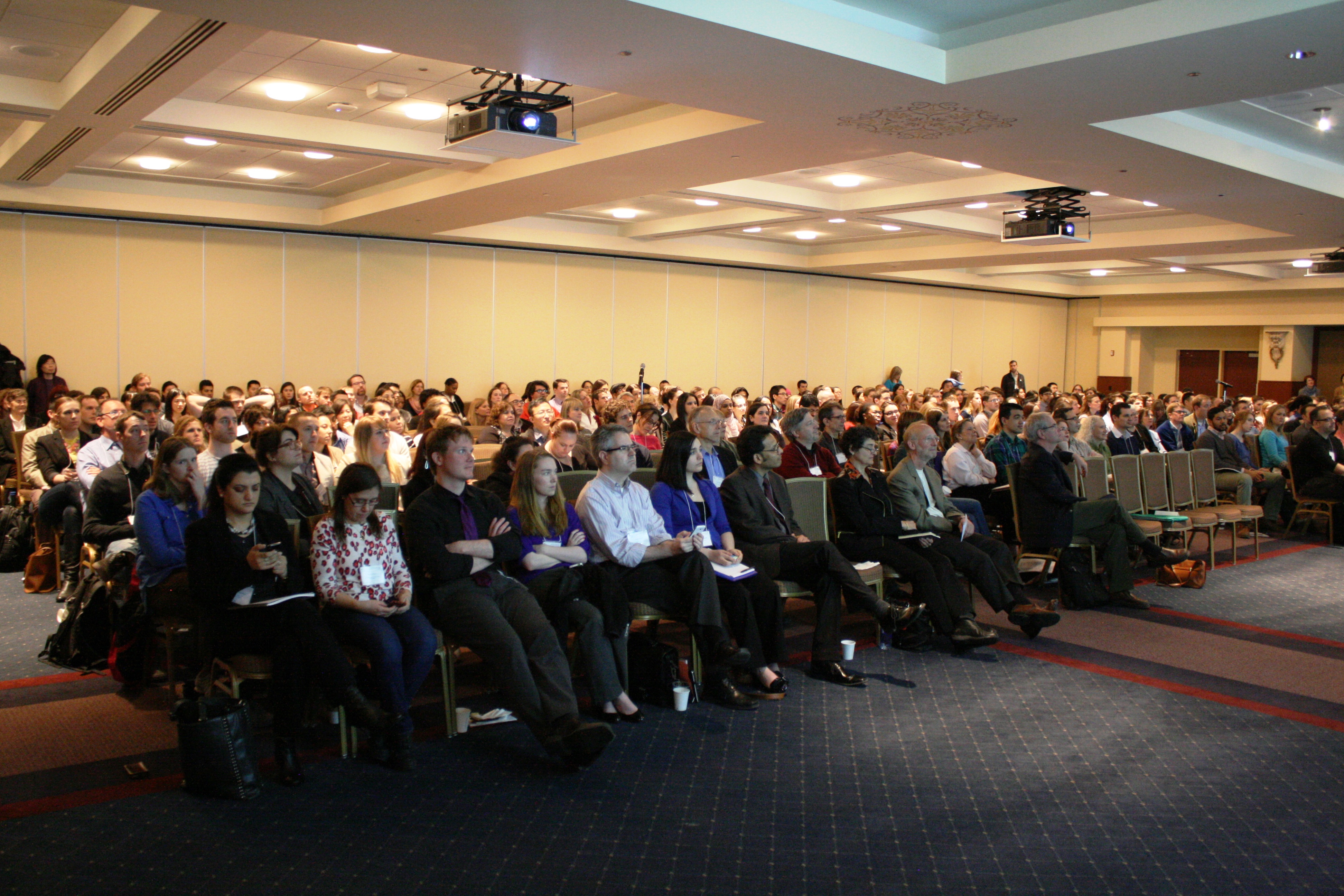 Packed house: Chicagoland and Midwest neuroscientists enjoying the "rockstars" of the Presidential Symposium and Keynote Lecture.

Diversity in Careers: Themed Lunch Tables; neuroscientists in non-academic careers advising young neuroscientists on career options.

Chicagoland and Midwest neuroscientists presenting their research in poster form.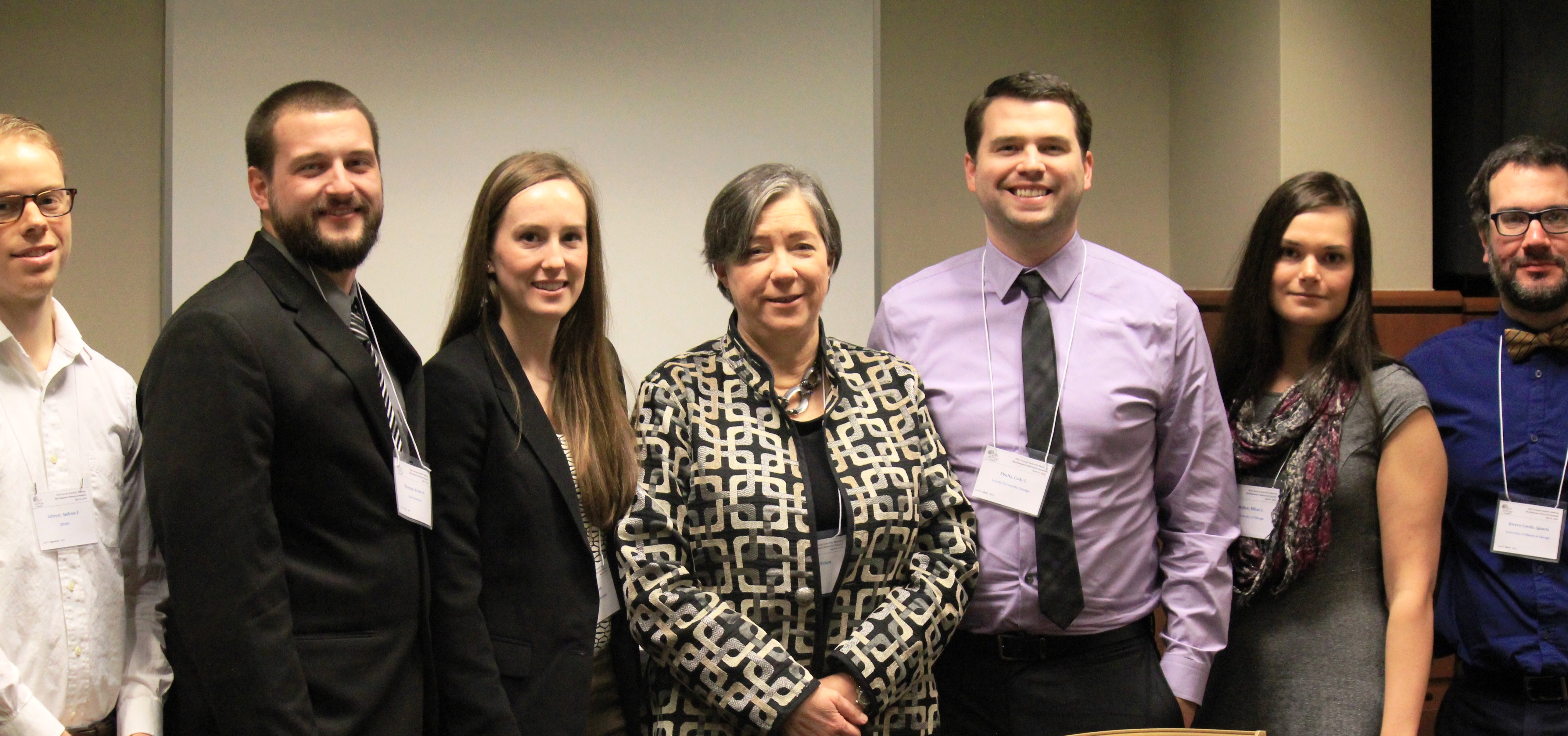 Dr. Lindquist with doctorate students that participated in the Graduate Student Symposium.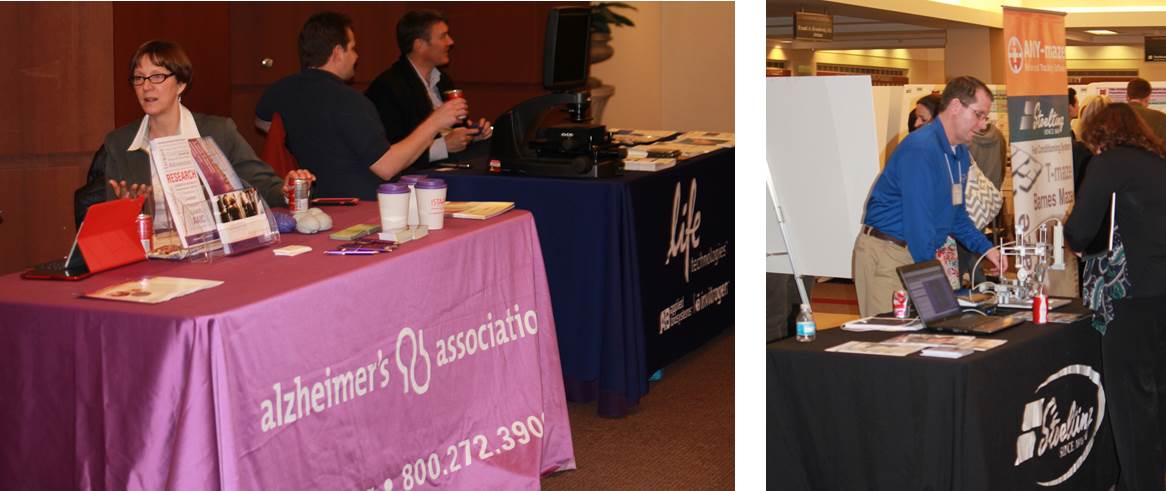 Thank you for continued support from our corporate vendors and academic sponsors!